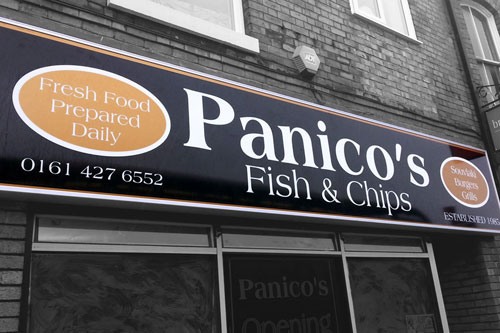 IN FOCUS… Fascia Signs
June 6, 2014
A fascia sign is often your most important advert and should be given the time and consideration it merits.  This is especially true for retailers and restaurants where first impressions really do count.
All to often, we see premises with brand new shop fits costing tens of thousands of pounds accompanied by cheap, poorly considered fascia signs. Often these are either badly designed or produced using completely unsuitable methods.
This is not to say however, that a fascia sign the more you spend on your fascia, the more suitable it becomes.
Often a simple sign trumps the all singing, all dancing, 'super-sign'.
A few years back, we were asked to produce a sign for a bakery in small town nearby. The owner had a friend who was a 'designer' and supplied us with the plans and layout for the bakery's new fascia sign. The design was stunning, full aluminium sign tray with 3D letters, backlit LEDs and digital graphics.  As you can imagine, such a grand sign would also cost a decent amount to  produce and install too.
We sat down at Stretford Studios with the design and agreed that for a simple bakery, this sign was not in keeping with the image of the client, it's environment and was excessively expensive (we felt that a bakery whose trading hours were 9am – 3pm did not need a backlit illuminated sign as it would be closed after dark). We set about designing an alternative.
Our design consisted of a simply painted timber back panel (already in place), flat cut Perspex lettering on locators and vinyl contact details. As you can imagine, our proposal came in at a fraction of the price of the owners friends design.
Upon submission, we were very surprised that the bakery's owner decided to stick with the original plan and placed the order for the original design which we produced and installed.
Some months later, we were contacted once again by the bakery's owner, requesting that we 'sort out' his sign.
It seems that it had become deeply unpopular in the town and was the subject of disparaging remarks from customers and even worse, complaints from a neighbouring apartment regarding glare from the LEDs at night.
'Plan B', our proposal, was then installed much to the delight of all concerned.
We highlight this story, not in order to  suggest that we always know best, nor to prevent customers from seeking advice from other sources, but to highlight the importance of careful planning and consideration where fascias are required.
Had our baker client, taken the advice of sign makers to begin with, he could have saved a fortune.
Some fascias require a 'Vegas' style overhaul, other however, just require a simple layout and professional installation.
For further information on how Stretford Studios can help with any aspect of your fascia designs, production or installation, please do not hesitate to get in touch.