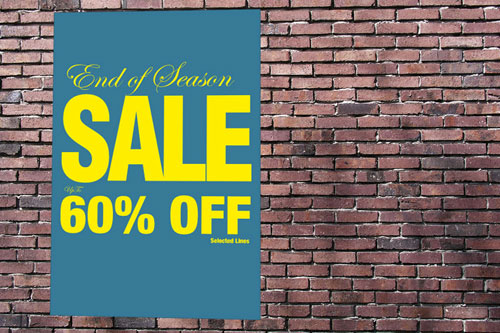 IN FOCUS… Posters
June 13, 2014
If you are unsure of which type of posters you require, you are not alone. Stretford Studios provide many types of printed poster which serve each purpose differently, dependent on usage, size or budget.
Hopefully the following will answer your questions.
Large Format Digital
Large format digital poster are the highest quality prints, available on a range of substrates printed at high resolution. This option is best where either a short run, or high quality (or both) are required.
We regularly supply large format digital posters to high street stores for promotional purposes where only a low number are required. We can print posters up to 1320mm wide, which is not possible with the other methods.
Screen Printed Posters
Screen printed posters are ideal for larger runs where only 1 or 2 colours are required. Typically we use this method for text only posters (Think department stores with SALE posters blanking out the windows).
The cost of Screen printed posters is significant lower than large format digital posters. However there is a set up cost which the cost of printing short runs (less than 10) might not be cost effective.
An additional advantage of Screen printed posters is the option to print metallic inks (silver/gold) or to print direct to fluorescent substrates.
Litho Printed Posters
Size less than A2? Looking for hundreds, even thousands? Then the lithographic option is for you.
Due to the printing process involved, litho prints also involve a set up cost, however the more you order the lower the unit price.
These prints are high quality (although not fine-art standard) and can used for a number purposes.
You will most likely have come across Litho Print posters advertising events / gigs and in large chains of restaurants / hotels / bars.
We hope this short guide is of use to you, however please feel free to get in touch if you have any further questions.